PLEASE NOTE: This is an archive of our original site, for informational purposes only. We no-longer have a sales catalogue.
---

Right Side of Game Area
The game area was a little too large to fit into one photo, so here's the right side. On the back wall you can see the miniatures rack -- we've just expanded this section and have yet to fill it up, but I'm sure we will soon. The bottom of these shelves hold mostly Warhammer books and the White Dwarf magazines, as well as some role playing games. The right wall of the game area is formed by the Citadel Paint rack, displays of various toys (Pokemon, Middle Earth, Dragonball Z, mostly), and finally a selection of T-shirts.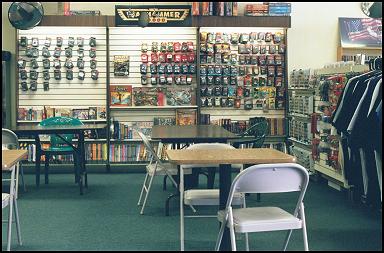 Page Added: April 21, 2001. Last Update: December 11, 2008