PLEASE NOTE: This is an archive of our original site, for informational purposes only. We no-longer have a sales catalogue.
---

Wall of Collectible Card Game Single Cards
Behind the front desk we have our offerings of individual cards for a variety of collectible card games (CCGs). They are indexed alphabetically by set. Here you see on the very top shelf, unopened packs of CCGs, the next shelf has Middle Earth, Dragonball Z, Pokemon, Magi-Nation, then there are Magic: The Gathering Singles which take up two shelves in the middle. The right-most shelf over the phone has Star Wars. The very bottom, middle shelf has odds and ends like Battletech, X-Files, and others.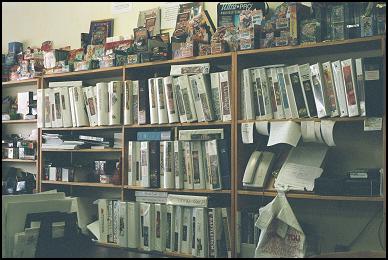 Page Added: April 21, 2001. Last Update: December 11, 2008