PLEASE NOTE: This is an archive of our original site, for informational purposes only. We no-longer have a sales catalogue.
---

Here There Be Dragons
This view is from within the game area looking back toward the checkout counter (the cash register is just off the field of view on the left). This case is chock full of, primarily, dragons (though you will also find winged cats, wizards, and castles in here, with the occasional winged wolf or dinosaur lurking in the background). Pocket Dragons are the main mass on the right, Windstone Editions are the blues, whites and greens on the left. On top of this case reside Pokemon toys and whatever else we're featuring at the moment.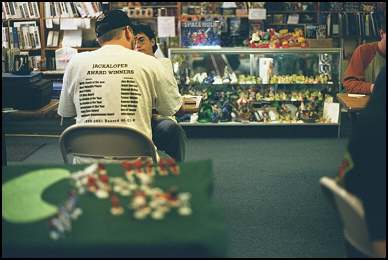 Page Added: May 1, 2001. Last Update: December 11, 2008