PLEASE NOTE: This is an archive of our original site, for informational purposes only. We no-longer have a sales catalogue.
---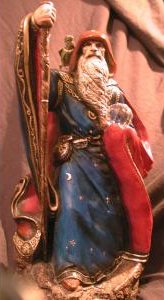 Of this piece, Windstone Editions tells us that this was one of the original Large Wizards, and few of them were made.
It had a brown cape, rose colored inside.
The next variation had a blue cape with rose inside, and was sold as 601-B. Finally, 601-B went to blue robe inside and out.

Images above and below used with our thanks to and permission of the copyright holders:

Image above Copyright 2004 Harriet Morton, All Rights Reserved Worldwide
Images below Copyright 2009 Christine Clippinger, All Rights Reserved Worldwide.